Blues for Bird
October 2001
288
Music, Biography & Memoir
9781891661204
5 3/8 x 8 3/8
softcover
Blues for Bird is Martin Gray's stunning, one-of-a-kind biography of Charlie Parker. Written entirely in trimeter, Gray's epic biographical poem runs some 5,400 lines. The work chronicles the life of one of the twentieth century's most pivotal musical figures, from his humble beginnings in Kansas City through his pioneering of the breakthrough musical form of "bebop" to his early tragic death in the Park Avenue apartment of a European Countess.
Gray's poetry dances nimbly along in a way that echoes Bird's blazing, fast-fingered solos, and his marvelous use of language reflects the rhythms of jazz and the beat that lies at the heart of bebop. Indeed, Blues for Bird is like a piece of jazz itself: exciting, innovative and constantly surprising.
Blues for Bird not only functions as a primer on Bird, but as an introduction to the musical nature of jazz; it is a welcome addition to the library of any jazz or poetry aficionado.
Click below to purchase this book:
Read Excerpt
Book I
Parker at His Peak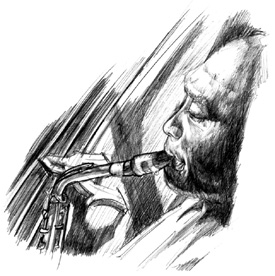 I
Sax and the man I sing
Yes, man and saxophone –
how Charlie Parker rose
from Kansas City ground
and learnt to play his horn
till he was better than
the best man who could play
an alto saxophone.
From many models three
instructors taught him most:
Prez and Buster Smith
and later Tatum too.
II
Bird made his instrument
expressive of those moods
of tense anxiety
pace metropolitan
the city's frantic speed
what men at war must feel
a love tinged with despair
then peace so qualified –
the threat was nuclear
till drink and drugs combined
to quiet his instrument.
Let's see him first from height
of those triumphant years
from '47 on
as consequence of life
as Camarillo's guest
returning him to health
becoming King of Bop
those plaudits he received
from men who worked with him
and knew him as the best.
III
'You gotta go by Bird
if you ever want to swing'
was what Bud Powell affirmed
the metal-fingered man
he with hands of steel
who laid down any beat
could swing it with the best.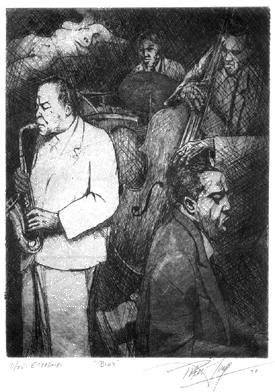 IV
To Tony Graye Bird was
'the kindest of the Titans.'
He met him following
a breathlessly fast solo
then much in awe he said
'I don't know what you're paid –
I hope a buck a note'
while Sidney Bechet who
was never known to praise
said to Charlie: 'Man.
those phrases that you make!'
V
Art Blakey to a friend:
'You oughta hear this guy.'
'Can't outplay Willie Smith.'
'Man. oh yes he can!'
VI
The dancer Baby Lawrence
was seeking a new form
improving dancing steps.
The first time he heard Bird
announced 'That form I've found.'
VII
Said Gerry Mulligan
although guys were about
who got around their horns
no one improvised
with more command and drive,
so fluid an ability
and such a sheer dexterity
as Parker with his horn.
VIII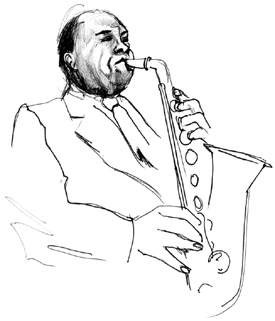 'You could play a tune
and right away he'd play
a counter melody.
It came spontaneously'
said Trummy Young one time
while Gigi Gryce observed
that Parker could augment
anything at all.
'You'd hum a bar or two.
Moments later he
would give it back to you
so varied, so transformed
you could not recognize
what he had started with.
It seemed original.'
IX
'Don't be afraid' Bird said.
'Just go ahead and play!'
Miles Davis was the man
encouraged by his words.
'When Bird played melodies
I'd play just under him
and let him lead the note.
The only thing I'd add
would be a larger sound.
I used to quit each night
when I performed with him.
Each time I'd say to him
"What do you need me for ?"
That man could really swing
a whole band when he played.'
X
'The alto saxophone
is just a metal pipe
with keys to him' recalled
John Malachi when asked
how Bird could instantly
quote anything he heard.
Bill Graham then observed
'He could adopt a horn
of any type or make.
It didn't matter if
the reed was thick or thin
the sound he blew was his.
He'd make a trombone play
just like an alto sax.'
John Lewis commented
'He knew just when to stop.
No solo would extend
further than the scope
of insights that he had.
You could not do without
a single note he played.'
XI
The Duke's lead trumpeter
Harold Baker felt
that all Bird wished to do
was live to play that horn.
'An eleventh was his start
or key's far thirteenth note
in sixteenths, thirty-seconds,
three times as fast on horn
as any other cat,
knew what he wished to play
before a finger moved.
So many guys forget
the changes they would make.
Bird could ramble but
he got back to the key.
I never heard so fast
as that which Charlie played.
Fast as it was, it's clean,
band playing the tune straight.
They're giving Bird ideas.
They keep on feeding him.
He's chalking all the way.'
XII
When first in NYC
on 52nd Street
Ben Webster heard Bird blow
he told all hornmen that
this guy's phenomenal.
'All you guys who think
you can play saxophone
you'd better go up there
to hear this little player
performing for McShann.
You better go up there
and go to school with him.'
XIII
Another anecdote
relates that Webster came
to Minton's when Bird played
a tenor sax and Ben
just snatched Bird's horn away.
'That horn' said Ben 'is not
supposed to sound that fast !'
Ben Webster walked that night
all over town to say
'Oh man, I heard a guy.
I swear he's gonna make
all crazy with that horn!'
XIV
Billy Eckstine said
that always Bird disliked
the tenor register
but played like mad on it
at least a year with Hines.
Not feeling it, he said
'Man. this thing too big'
in comment on its power.
XV
Sarah Vaughan remarked
'I loved the way Bird moved
all over his strong horn.
There ain't but few notes there.
In an octave eight
and just five sharps and flats.
He played so swift it seemed
he added several more.'
XVI
Max Roach likened Bird
to solar energy.
'We drew our warmth from him.
We're drawing on it still.
In all things musical
his ideas bounded out
and this inspired us all.
Bird had a playful means
that raised each instrument.'
XVII
'I never saw Bird eat
an apple or a pear
or chew a stick of gum.
That man, he only played
but how he played that horn!'
Mingus once affirmed.
'He brought to music strains
I'd only heard before
in Beethoven's quartets,
Stravinsky even more.'
XVIII
Jimmy Forrest said
that once he wrote a tune:
'Night Train was its name.
"Play your song" Bird urged
so we began to play
and when it came his turn
Bird played the hell from it
but when my turn approached
unable to go on
I said in compliment
"After you're through with it
what is there left to play?"
Quickly Bird replied
"That's one of the nicest things
that has been said to me."'
XIX
Bird's little finger was
long as the others were
so that the hands he had
were square and flat and yet
could generate all notes
providing speed and reach –
a smooth and gentle touch –
a deftness that was felt –
so what he thought and played
was instantaneous.
XX
When asked what Bird achieved
Jay McShann said this:
'If you ask me what he did
I'd say "He played the blues."
If you listen closely, well
if Bird played anything
the blues was part of it
and if a ballad he
would give that ballad sound
but the blues was what Bird played.
He played like he'd been hurt.
He had a crying horn.'
XXI
Dizzy Gillespie said
that Bird could accent, stress
the full significance
on notes and rests he made.
'He'd work on different means
for building melodies.
While holding a B chord
he'd blow the key of B.
Something else Yard did
I'd love the way he'd play
with sense so rapidly.
He was so versed in chords
that he was never lost.
He never lost the time
whatever chords you played.'
XXII
'He'd blow a blues and sound
just like blues singers do
as if his horn could sing.
Performing for a crowd
he would invent a phrase
they'd never heard before.
He'd start it and they would
finish it with him.
It was so lyrical,
a simple thing to play,
a tune so natural
and that's another thing:
what you'd hear in Yard
was his simplicity.'
XXIII
'He was accompanist
so backing singers like
they'd never been before
behind them filling in
to make these little runs.
Yard could make a run
and end it at the point
at which the singers did.
that's very hard to do.'
XXIV
A Rico Number Five
the stiffest reed that's made
was Charlie's reed of choice.
It makes the biggest sound
needs more blowing strength
is least flexible
providing trumpet power
an unforgiving reed
but Charlie blew with that.
XXV
He made some classic quotes:
Chopin's Minute Waltz
Stravinsky's Rite of Spring
Petroushka, Firebird too
Rossini's William Tell
(of course the overture)
and then Grand Canyon Suite –
Ferde Grofé's best –
Edvard Grieg's Peer Gynt –
Wagner's Tannhäuser –
Sergei Prokofiev's
raucous Scythian Suite
as Bird loved dissonance
and energetic rhythm.
XXVI
Bird when he composed
updated all the blues
changing the ballad from
Tin Pan Alley to
a tightly-knit new form
based on the K.C. riff.
With intuition, taste
Bird adopted this,
abstracted, purified.
Repeated melodies
were strongly underlined
with one great rhythmic thrust.
XXVII
Freeing up the blues
was Charlie's central task.
Bird at St Nick's displays
free-form passages
that led to John Coltrane
and other music signs
that moved to jet-stream ways
of Ornette Coleman and
expanded tonal style
in Eric Dolphy's horn
inspiring Clifford Brown's
choral trumpeting.
XXVIII
In Parker's Mood you hear
the saxophone alone
backed by the rhythm group.
It is a classic blues
just like The Hootie Blues
Slam Slam Blues, Cool Blues
and also Now's The Time.
Plunges are headlong and
descents prodigious
full of slides and slurs
with notes intensified
by deft false fingerings.
Its panoramic sound
suggests an empire's reign
before its long decline.
XXIX
So generous with tunes
Bird loaned to other cats
that sometimes they would steal
and pass off as their own
and when it came to style
so hard to copyright
or so Tristano said
Bird could have sued the world
for plagiarism if
his improvising form
had been sufficient grounds.
XXX
Those who copied him
or tried to imitate
were Sonny Stitt, Phil Woods
Cannonball Adderley
Ornette Coleman too
for imitation is
sincerest form of praise
and every one of them
was dying to achieve
what Bird alone could do.
XXXI
The heritage he left
was taken up by men
whose work was serious:
Sonny Rollins Eric Dolphy
Red Rodney Archie Shepp
Albert Ayler Sonny Simmons
too briefly Clifford Brown
survived no second crash.
Charles McPherson's sound,
the way Steve Parque performs
deriving all from Bird,
traditions made by him.
The land of saxophone
became a continent.
XXXII
Cootie Williams said
that Parker's influence
exceeded Armstrong's best.
Louis changed the brass
but after Bird arrived
he changed all instruments:
drums piano bass
trombones trumpets sax.
The band became as one
a single instrument.
XXXIII
In ballads Parker plays
he sculpts a piece to make
a subtle atmosphere.
This contrasts with the way
that Louis Armstrong plays.
As Andre Hodeir said
Louis takes the tune
and then transfigures it
distorting it with rhythm
and added arabesques
while Bird encloses it
within a form that is
so musically complex
he leaves the tune implied.
XXXIV
Bird liked to imitate
and mimicked on his sax
hum of the wind through leaves
honk of an auto horn
swish of a speeding car
scream of the tires when braked
explosion when they burst
dire siren of the cops
yelp of a pup, dog-bark
as if the pooch had talked,
Popeye's deep-toned voice
Olive Oyl's high pitch
falsetto in complaint.
XXXV
He played all colors too:
orange yellow green
all forty shades of blue
as if he played this for
every blue there was.
Red may raise the heart
and green redeem the world
especially in spring
but blue expresses soul
the hunger each of us
has for the her or him
who lurks there deep within
making of each a whole.
XXXVI
You hear within Bird's horn
poetic qualities:
facility and then
virtuosity
intensity in swing
all round inventiveness
spontaneity
playfulness, a sense
of humor in his play
deep bluesiness and more
performing at his best
a horn so sonorous
it melted prison bars
broke down all barriers
of gender, race and class.
© 2001 Martin Gray
https://www.santamonicapress.com/wp-content/uploads/2015/10/bird.jpg
360
240
Santa Monica Press
https://www.santamonicapress.com/wp-content/uploads/2021/03/smp_logo_slogan_h106.png
Santa Monica Press
2015-09-26 00:00:00
2021-06-03 22:43:42
Blues for Bird