Mark Spitz : The Extraordinary Life of an Olympic Champion
Mark Spitz : The Extraordinary Life of an Olympic Champion
July 2008
288
The Only Authorized Biography of the
Greatest Olympic Athlete of All Time!
Mark Spitz is arguably the most famous and successful Olympic athlete of all time because of his legendary performances at the 1972 Olympics, where he won seven gold medals while breaking seven world records. His amazing life story is told for the first time in the authorized biography Mark Spitz: The Extraordinary Life of an Olympic Champion.
This exclusive account follows Spitz's roller-coaster career: age-group prodigy, four-medal "flop" at the 1968 Olympics, outstanding collegiate career at Indiana University, gold-medal haul in 1972, lucrative endorsements, and a brief and unsuccessful stint in entertainment.
And the meatier stories—the role his father played in his career, his often stormy relationship with coaches and teammates, his experiences as a Jewish athlete with anti-Semitism and the Munich massacre, his impact on the commercialization of swimming, his relationship with Michael Phelps, and others—have been largely unknown, ignored, barely touched upon, or distorted.
Mark Spitz: The Extraordinary Life of an Olympic Champion provides insights into Spitz's career, behind-the-scenes anecdotes about him and his competitors, and untold stories that shed light on his complicated personality and relationship with his father. Old and new fans alike will appreciate the depth and details of this swimming icon's story.
Click below to purchase this book:
Read Excerpt
Excerpt
Contents
Acknowledgments
Foreword by Mark Spitz
Introduction by Keith Jackson
Chapter 1—A Favorite Color Emerges
Chapter 2—Swimming for Sherm
Chapter 3—The Move to Santa Clara
Chapter 4—The 1968 Swim Camp Cabal
Chapter 5—Four-Medal "Flop" in Mexico City
Chapter 6—Finding Doc
Chapter 7—The NCAA Years and the Spitz-Russell Rematch
Chapter 8—Change for the Better
Chapter 9—Pressure at the 1972 Trials
Chapter 10—On the Road to Redemption
Chapter 11—What If?
Chapter 12—Hump Day
Chapter 13—History is Made
Chapter 14—"They're All Gone"
Chapter 15—$ign$ of the Time$
Chapter 16—Back in the Water
Chapter 17—Presidents, Kings, and Queens
Chapter 18—Similar Goals, Different Journeys
Epilogue—Where Are They Now?
Mark Spitz's World Records
Index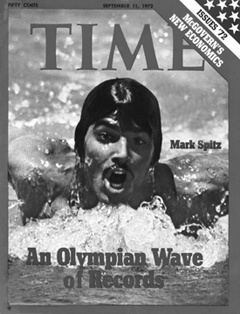 INTRODUCTION
by Keith Jackson
It is fair that one should expect extraordinary achievements to come from the Olympic Games. Founded in 1896 as a celebration of sport for the youth of the world, the original intent quickly changed in 1900 when the national flags of participating countries were brought into Paris's Vélodrome de Vincennes for the first time.
"It is not the winning that matters most, but the taking part in the celebration that matters most," quickly became a thing of the past.
Winning did matter and it was proven immediately. And as the Games traveled on it was proven that a gold medal worn by a favorite son or daughter could in fact lift the pride and spirit of an entire nation.
I first became aware that Mark Spitz might be a special athlete during his time at Indiana University. The famed coach Doc Counsilman suggested it more than once, and West Coast club coaches George Haines and Sherm Chavoor echoed the same theme.
At the 1968 Games in Mexico City, Spitz predicted six golds but got only two. It didn't seem to disappoint him all that much—it just made his fire burn hotter, and his determination grow greater. I had never seen an athlete's eyes reflect such will; it was pure joy to watch him day after day, and the anticipation of each race was breathtaking!
It was in 1972 that the world was stunned by his remarkable performance. At the Munich Olympics, Spitz won the incredible total of seven gold medals, setting seven world records (four individual races and three relays) in the course of accomplishing this extraordinary feat.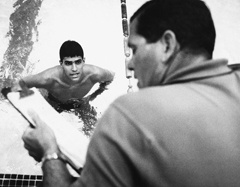 I was the ABC announcer for every event held in the new Schwimmhalle, and by the time Spitz had won the last of his gold medals it was a miracle there was still water in the pool. The great Aussie swimmer Murray Rose was my partner on the broadcasts, and even though Rose had won several Olympic gold medals himself, he joined me and millions of others in trying to find the right words to adequately describe the remarkable performances we were so privileged to witness.
At the end of Spitz's fifth race, fifth gold medal, and fifth world record, a Russian journalist I had come to know suggested that "perhaps Olympic officials should check Spitz more closely—he may have the genes of a dolphin!"
Who is Mark Spitz? Not that many people really know, because athletes like Spitz who perform at such a high level need to be insulated in order to retain their focus. However, in this book, Rich Foster reveals the real Mark Spitz, and for that, I for one will be eternally grateful.
https://www.santamonicapress.com/wp-content/uploads/2015/10/markspitz.jpg
360
240
Santa Monica Press
https://www.santamonicapress.com/wp-content/uploads/2021/03/smp_logo_slogan_h106.png
Santa Monica Press
2014-10-23 00:00:00
2019-05-09 03:41:52
Mark Spitz : The Extraordinary Life of an Olympic Champion