Offbeat Golf : A Swingin' Guide to a Worldwide Obsession
Offbeat Golf : A Swingin' Guide to a Worldwide Obsession
June 1998
192
$17.95
Hundreds of Photos and Illustrations
Pop Culture, Sports
9781891661020
8 3/8 x 10 7/8
softcover
Author and professional duffer Bob Loeffelbein takes an inspired look at the most unusual aspects of one of the most loved--and loathed--games in the world. Included in Offbeat Golf are an eccentric history of the sport, weird rules, trick shot artists, "curious" courses, robots who golf, bizarre gadgets to improve your game, eclectic equipment, and the most unbelievable golf carts you've ever seen!
You'll also read about:
Mary, Queen of Scots, who was so addicted to the game that while playing golf and informed that her husband had been murdered, she finished the round before going to him.
Golf gadgets to keep your head down, such as the sadistic "Crotch Hook."
Some of the world's most dangerous golf courses, including one in Zambia featuring signs which read, "Note: Beware of crocodiles on 4, 5, 6, 8, 9, 13, 14, 15, 17, 18."
After another frustrating day on the course, set your clubs down, put your feet up and enter the world of Offbeat Golf!
Click below to purchase this book:
Read Excerpt
Table of Contents
Chapter 1:
An Eccentric History of the Oldest Form of Self-Torture
Chapter 2:
Golf Rules Are Made to Be Broken Bent!
Chapter 3:
Let's Ditch The Rules Altogether
Chapter 4:
Trick Shot Artists
Chapter 5:
Curious Courses
Chapter 6:
Automated Golf
Chapter 7:
Groovy Gadgets to Improve Your Game
Chapter 8:
It Don't Mean a Thing, If It Ain't Got That Swing
Chapter 9:
Putt 'er There, Pardner
Chapter 10:
Having a Ball!
Chapter 11:
Golf a la Cart
Chapter 12:
Hole in One Helter-SkelterOffbeat Golf Resources
Groovy Gadgets!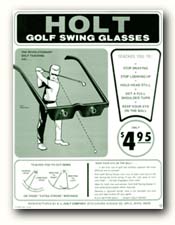 Right: The Holt Swing Glasses are shaped like glasses but don't use optical glass. The glasses force the golfer to keep his eyes on the ball throughout the swing, since opaque plastic ridges surround the eyeholes. The wearer is, in effect, looking through two eye tunnels. All side vision is cut off, reminding one of horse blinders. If the head is moved, the ball disappears from view. All outside distractions, including head and club movements, are also thus eliminated, making this a valuable aid on the putting green as well.
Below: The Crotch Hook is the most diabolical of all the strap and brace devices designed to keep the head down during the swing. It consists of a headband with an elastic cord attached to a giant seven-inch fishhook which, of course, is fitted into the crotch of one's trousers. Lift your head up too high during your swing and, well, you get the idea. Pavlov would've been proud.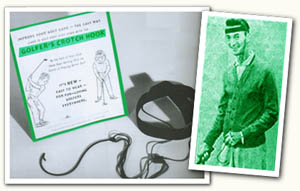 Bob Loeffelbein's Biography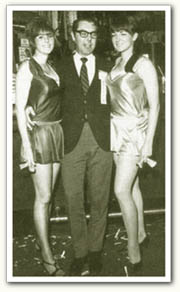 Bob Loeffelbein has had several careers. He started as a physical education teacher at Stanford University, followed by stints at the University of Southern California and the University of the Seven Seas–a shipboard college sailing around the world. Mr. Loeffelbein later switched to teaching journalism at St. Mary's College of Maryland.
He served with the U.S. Navy's Amphibious Landing Forces in the World War II battles of Iwo Jima and Okinawa, and was aboard one of the first ships taking occupation troops into Nagasaki, Japan. After the atomic bombing in Nagasaki, he was aboard the armada's flagship in Tokyo Bay as the armistice was being signed. As such, Mr. Loeffelbein is probably the only person to follow the atom bomb from beginning to end, having worked as a public relations specialist with General Electric Company at the Hanford Atomic Products Operation, where plutonium for the bombs was made, and then seen first-hand the bomb's result ashore at Nagasaki. He was also recalled for the Korean War.
After taking a Master's Degree in Recreation Management at the University of Oregon, Mr. Loeffelbein served as superintendent of Parks & Recreation at River Road, Oregon and Twentynine Palms, California. He then became dean of the Navy Department's Special Services Training Facility for five years.
Since 1979, he has been a full-time freelance writer, with over 3,500 articles appearing in some 734 different publications in the U.S. and abroad. He has also published 12 books. Titles have included: The Doodler's Dictionary (a humorous sketch book); Physical Education Teaching & Grading Manual; How to Goof-Proof Your Golf Game, (about golfing gadgets); The Playground Summer Game Book; Knight Times: Jousting in the United States (a historical reference on the official state sport of Maryland); Script Tease: The Treasury of Surprise Endings (a short story collection); A Pack of Lies (a tall tale collection); Putting Your Best Feats Forward (a self-help book on job hunting skills); The Recreation Handbook (with over 500 new games described); The United States Flag Book: Everything About Old Glory; and this book.
He currently lives in the small town of Clarkston, Washington.
Excerpt–Let's Ditch The Rules Altogether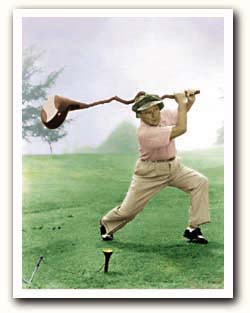 Have you ever played the game so badly that you told yourself you couldthrow the ball and around the course and come up with a lower score? Well, some people have actually done it. The world record for throwing a ball around an 18-hole course is 84, set by Douglas V. Shipe at the University of Missouri course in 1971.
But throwing a ball around a course is hardly the only way to subvert the rules. Throughout the 20th century, specialty tournaments in which the traditional rules of golf are turned inside-out have been held around the country. The Duffer's Tournament, for some 12,000 members of the U.S. Duffers Association headquartered in Newport, Kentucky, is a good example. A duffer who shanks his drive out of bounds, for instance, can take another shot with only one penalty stroke added, instead of two, or he can improve his lie as much as six inches, smooth out spike prints on the green, and clean or replace his ball at any time without penalty. He is allowed to whiff without counting the stroke. If he hits into the water, he can drop on the far side of the hazard for only one added stroke. In short, they still play for fun.
The Interdenominational Churchmen Tournament in Grand Rapids, Michigan installed four special rules: "Thou shalt not use profanity," "Thou shalt not covet thy neighbor's putter," "Thou shalt not steal thy neighbor's ball," and "Thou shalt not bear false witness in the final tally." What might have been deemed unseemly, however, was that the rules, according to one of the organizers, were swiped from another preachers' tournament. "I'm afraid we'll be accused of plagiarizing," said one white-collared official.
The National Association of Left-Handed Golfers was born in Chicago, Illinois in 1935. It sponsors about 30 tournaments a year, including an annual championship. Their main rule is that "all but trouble shots must be played lefty." They now have a women's division, as well as a newsletter called "Southpaw Activities."
Bald Headed Men Need Only Apply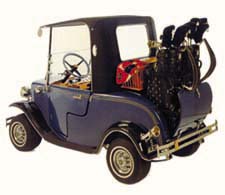 Specialty tournaments are not always about unique rules; sometimes, simply the entry requirements are enough to raise some eyebrows. Tournaments have been held for bald headed men (Clarkston, Washington); public links players (Hershey, Pennsylvania); Vietnam POW-MIA bracelet wearers (Corpus Christi, Texas); hoboes (Shawnee, Oklahoma); obese men (Baton Rouge, Louisiana); maitre d's (Las Vegas, Nevada, played in tuxedos with scarcely-clad showgirls for caddies); workers for companies having a gross revenue in excess of $1 million, or more than 100 employees (the USA Company Golf Challenge, which varies venues); handicapped persons, including one for blind players; men named Bob Jones (Bob Jones Open in Fenton, Michigan, honoring the great l920's golfer who won 13 national championships in eight years); and penitentiary inmates with touring professionals (the Pros & Cons Invitational).
The George Gobel Duffers Classic (named for the popular comedian), had rather a rocky start. The "first annual," for 18-handicappers and over, was held in 1975. When word got out that they were offering a $50,000 winner's prize–$10,000 more than Nicklaus won at the Masters–the USGA tried to stop them, reminding them that "any prize over $200 would cost a player his amateur standing." The duffers counterattacked by filing a lawsuit to cease interfering. "It's ludicrous to say a guy who shoots 95 to 100 is going to make his living playing golf," said Duffer's Association President Tom Drennan.
The National Tournament for Public Linkers is for those golfers not connected with any private club. It was originated in 1922 by James Standish, Jr., in Toledo, Ohio. At that first tourney, one spectator–possibly unnerved by the general level of play–shot himself in the head and play had to be temporarily suspended while his lifeless body was carried out.
In June 1985, at the Tournament Players course in Ponte Vedra Beach, Florida, (one of the country's most difficult), Golf Digest magazine sponsored the "America's Worst Avid Golfer Tournament." Angelo Spagnolo, a 3l-year old grocery salesman, took 257 strokes to win the dubious title of "America's Worst Recreational Golfer." He lost "about 60 balls," 27 of them on the 17th water-surrounded hole, before he was forced by course officials to walk around the green and putt down a narrow cart path to the flag.
Spagnolo was awarded a crystal trophy and a tacky green-plaid jacket–parodying the green coats given winners of the Masters. Golf Digest editors said that they put on the event "to show that average players can have fun even while ending up with scores that look more like four-round totals."
The senior citizen's Shoot-Your-Age event was first tried out as a tournament on a par-3 course in Los Angeles. A great many elders have recorded this feat both before and after the tournament, the most notable being perhaps Jimmy Drake, life member of the Miramar Golf Club in Wellington, New Zealand. At age 86 he had bettered his age 191 times and lost count of the number of times he had equaled it. His first attempt was at age 70, when he went around in 69. At age 86 his handicap was 13 and he was shooting for 200 better-than-age scores.
Bill Diddel, at age 88 in 1972, had 83 rounds under his age in one year. He shot a 74 when he was 86, 12 strokes under his age, which was a record. Diddel was a five-time Indiana state amateur champ, winning the first title in 1905.
Best-Ball Turkey Shoots, where low gross scores, holes in one, etc., win turkeys, are popular as Thanksgiving tournaments. Players often dress in Pilgrim garb and Indian costumes, or in old-time golfing fashions–celluloid collars, boaters and jackets for the men and bustles, bonnets and button shoes for the ladies.
Another less-than-serious tournament is the occasional April Foolish Open at a course near Mims, Florida. Temporary April Fools hazards–such as a clothesline of laundry in front of a tee, coat trees in the fairway, and ceramic croaking frogs–are scattered about the course.
The nuttiest golf tournament of all would probably have to be the Hawaiian Holiday Masters in Honokaa, Hawaii. They use macadamia nuts for balls, padding clubs with rubber from old zori sandals so that they don't break or scuff them. Nuts are coated with latex and go about 150 yards (unless one cracks, in which case it hardly moves). Entries for this unique tournament have come from as far away as New Zealand.
© 1998 Robert L. Loeffelbein
https://www.santamonicapress.com/wp-content/uploads/2015/10/golf.jpg
312
240
Santa Monica Press
https://www.santamonicapress.com/wp-content/uploads/2021/03/smp_logo_slogan_h106.png
Santa Monica Press
2014-08-23 00:00:00
2019-05-09 03:41:52
Offbeat Golf : A Swingin' Guide to a Worldwide Obsession