Route 66 Quick Reference Encyclopedia
Route 66 Quick Reference Encyclopedia
May 2008
208
$12.95
Travel
9781595800343
4 ¼ x 8
Trade Paper
The author of the best-selling and critically acclaimed Route 66 Adventure Handbook returns with Route 66 Quick Reference Encyclopedia. In one handy volume, novices and seasoned roadies alike have fast and easy access to all of the essential information about America's most famous, beloved, and culturally significant highway.
Presenting a list of important terms accompanied by descriptive articles and illustrations, the guide details the route's history—including the origins of the term "Mother Road" and the slogan "Get Your Kicks on Route 66"—as well as its commemorative festivals, quirkiest attractions, and useful highway terms.
Fascinating trivia will allow road warriors to impress friends and fellow travelers with their knowledge of the route, while a supplemental list directs dedicated fans to more detailed information on one of the most historic and treasured drives in America.
Finally, a set of maps provides both general orientation and points out significant attractions through the use of custom icons. Route 66 Quick Reference Encyclopediais truly an A-to-Z guide to the absolute best of the Mother Road!
Click below to purchase this book:
Read Excerpt
A Short Introduction to Route 66
It comes as a surprise to many people that Route 66, rather than being the product of a grand construction project, was actually cobbled together from parts already on hand.
Native Americans, long before European colonizers arrived on the scene, crisscrossed parts of North America with hunting trails and trade routes that were typically no more than footpaths. These were later widened and experienced greater use as the colonial population expanded.
In the eighteenth and nineteenth centuries, there were efforts at local levels to improve existing trails and to create new ones for purposes of improved commerce. But even so, they were unpaved and primitive as a rule, which meant that they were nearly unusable in severe weather. The proliferation of railroad lines during this period served to make the poor condition of roads less important than it otherwise would have been.
Starting around 1890, there was a surge in interest in bicycling, and bicycles were soon joined by the earliest automobiles. Proponents of these voguish conveyances began to clamor for more and better roads on which to operate them, resulting in the Good Roads Movement.
The early decades of the twentieth century saw the development of a significant number of "named" auto trails, such as the Lincoln Highway and Ozark Trail. As in the past, these were funded and otherwise furthered at the local and regional levels. Signposts, trees, and other objects became covered with a multitude of symbols, one for each of the trails any given roadway might be considered a part of. Early motorists might have to stop and gaze for some time at this extensive "menu" of routes before deciding in which direction to proceed.
It was into this highway environment that the federal government thrust itself in the 1920s. In order to bring some order to the chaos and cacophony, the Joint Board on Interstate Highways and the American Association of State Highway Officials in 1926 enacted the numbering system for interstate highways with which we are familiar and of which U.S. 66 was a part.
It didn't happen overnight of course, but over the next several years the confusing riot of named trail placards was replaced by black-and-white numbered shields of standardized appearance. Even numbers signified east-west routes, while odd numbers designated north-south routes. Numbers ending in zero were reserved for coast-to-coast highways.
In each case, though—including 66—these numbered routes were established simply through the placement of numbered navigational signs at key points along preexisting roads, and there was considerable competition among affected towns and cities to have these newly designated routes pass through their communities on their streets. While there was certainly a bias for paved, or "improved" roads, in many areas there was no paved option available in 1926. It was not until the late 1930s that the whole length of Route 66 was a paved surface.
U.S. 66 underwent considerable change and improvement during the 1930s, as American highways in general were beneficiaries of Depression-era initiatives such as the Works Progress Administration (WPA) and the Civilian Conservation Corps (CCC). Then, during World War II, civilian travel diminished sharply with the rationing of tires and fuel. Those years, however, constituted the "calm before the storm."
It was a scant 10-year period following the end of the war for which Route 66 became best known. It was from roughly 1946 to 1955 that the highway sustained its heaviest usage, becoming a main artery for Americans spending leisure time on vacations and, in many cases, moving permanently to the western part of the country.
In 1956, the U.S. Congress passed the National Interstate and Defense Highways Act, which called for the construction of a nationwide network of high-speed, limited-access highways modeled in part after the German autobahns. As construction of these "interstates" progressed, portions of Route 66 (and the other old highways) were bypassed and fell into disuse. Businesses—and the people whose livelihoods depended on the steady flow of traffic Route 66 had provided—began to suffer. Untold numbers of those businesses ceased operation.
It was not until 1985 that the bypassing of Route 66 by the interstates was completed. In that year, the last segment in Williams, Arizona, was replaced by a just-completed section of Interstate 40, and U.S. Route 66 passed into history.
Along much of its length, the old highway was cast aside with little thought—essentially ignored—and is still there for today's explorer to find and experience. However, the condition of the road and its associated structures is in many places deplorable, which has led to the establishment of a number of preservation-oriented organizations whose objective is to save what remains of Route 66 for future generations. Thanks in part to those efforts, today—more than 20 years after U.S. 66 supposedly took its last breath—you can still get a taste of what the interstates thoughtlessly tried to take away from you.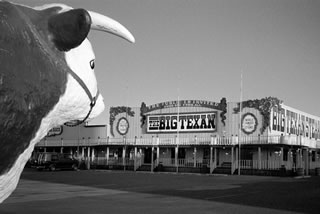 Big Texan
(Amarillo, TX) World-famous steakhouse known for its offer of a free 72-ounce steak dinner to anyone who can eat all of it in one hour; officially Big Texan Steak Ranch. Once a Route 66 fixture, the Big Texan moved to the side of Interstate 40 circa 1968 in response to changing American travel patterns. The Big Texan's attached gift shop includes a display of live rattlesnakes, a throwback to the heyday of Route 66 when reptile farms were popular roadside attractions. [72 oz. = 2,041 g]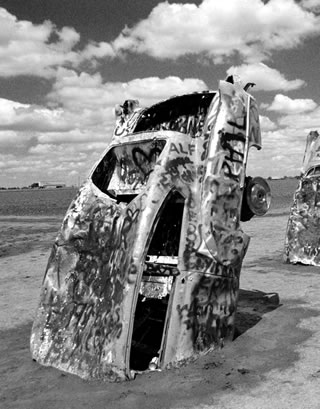 Cadillac Ranch
(Amarillo, TX) An outdoor art installation dating from 1974 and comprised of a row of 10 partially buried Cadillac automobiles with their tail fins angling skyward; the artwork is visible from I-40 in a field on the western outskirts of town. It has become the norm that pilgrims to the site bring cans of spray paint and add graffiti to the cars; periodically the cars are all repainted in a solid color so that this process can begin anew. Popularly considered one of the most distinctive and important features of Route 66, in truth Cadillac Ranch dates from well after U.S. 66 had lost its importance, and so was actually installed in proximity to the Mother Road's successor in the area, Interstate 40. Surprisingly, the whole installation was picked up and moved several years ago in response to encroaching development at its original location, which had been a short distance to the east. The original artwork was commissioned by local tycoon Stanley Marsh 3 and created by a group of collaborators calling themselves the Ant Farm. See also stanley marsh 3; ant farm.
Cozy Dog Drive-In
(Springfield, IL) A famous Route 66 eatery in the Illinois capital established by Ed Waldmire, Jr., shortly after World War II that is still run by members of his family to this day. Waldmire is credited by many as being the inventor of the corn dog—a batter-covered hot dog served on a stick, which he dubbed the cozy dog—now a staple at traditional American events such as state and county fairs. In fact, the cozy dog actually premiered at the Illinois State Fair in 1946.
"Get Your Kicks on Route 66"
Well-known Mother Road slogan based upon the refrain from composer Bobby Troup's hit song "Route 66," which he wrote in 1946 during a cross-country trip on the highway. See also bobby troup.
Edwin Hubble
(1889–1953) Astronomer for whom the Hubble Space Telescope was named. There is a scale model of the telescope on the courthouse lawn in the Route 66 town of Marshfield, Missouri, his birthplace.
Old Log Cabin Inn
(Pontiac, IL) This restaurant's claim to fame is that it dealt with the realignment of Route 66 in this area in a unique way—the building was picked up and re-oriented toward the new highway. Today, you can still see the older highway behind the restaurant near the railroad tracks, and that's the direction the building once faced.
https://www.santamonicapress.com/wp-content/uploads/2015/10/route66qrh.jpg
452
240
Santa Monica Press
https://www.santamonicapress.com/wp-content/uploads/2021/03/smp_logo_slogan_h106.png
Santa Monica Press
2014-05-11 00:00:00
2019-05-09 03:41:54
Route 66 Quick Reference Encyclopedia