Silent Traces : Discovering Early Hollywood Through the Films of Charlie Chaplin
Silent Traces : Discovering Early Hollywood Through the Films of Charlie Chaplin
August 2006
304
$24.95
Hundreds of Black-and-White Photos
Film & TV
9781595800145
11 x 8 1/2
softcover
Silent Traces: Discovering Early Hollywood Through the Films of Charlie Chaplin is the long-awaited follow-up to John Bengtson's critically acclaimed masterpiece Silent Echoes: Discovering Early Hollywood Through the Films of Buster Keaton.
In Silent Traces, Bengtson explores the traces of early Hollywood hidden within Charlie Chaplin's timeless films. This stunning work of cinematic archeology combines Chaplin's movie images with archival photographs, vintage maps, and scores of then-and-now comparison photographs to conjure up the silent-movie era from an entirely new perspective.
By describing the historical settings found in such Chaplin classics as The Kid, City Lights, and Modern Times, Bengtson illuminates both Chaplin's genius and the evolving city that served as a backdrop for his art. Part time machine, part detective story, Silent Traces presents a unique look at Chaplin's work, and a captivating glimpse into Hollywood's most romantic era.
Click below to purchase this book:
Read Excerpt
Contents
Foreword
Introduction
Plaza de Los Angeles
The Keystone Studio
Kid Auto Races at Venice
Making a Living
Between Showers
His Favorite Pastime
Caught in a Cabaret
A Busy Day
Mabel's Busy Day (Gentlemen of Nerve)
Mabel's Married Life (Echo Park)
Laughing Gas
The New Janitor
His Musical Career
His Trysting Place (Hollenbeck Park)
Tillie's Punctured Romance
The Essanay Studio
His New Job
A Night Out
The Champion
A Jitney Elopement
The Tramp
By the Sea
Work
A Woman (Eastlake Park)
The Bank
Police
The Lone Star Studio (Mutual)
The Floorwalker
The Fireman
The Count
The Rink
Easy Street
The Adventurer (Burlesque on Carmen)
The Chaplin Studio
First National
A Dog's Life
Shoulder Arms
Sunnyside
A Day's Pleasure (Shanghaied)
The Kid
The Idle Class
Pay Day
The Pilgrim

United Artists
A Woman of Paris
The Gold Rush
The Circus
City Lights
Modern Times
Great Dictator
Parting Shot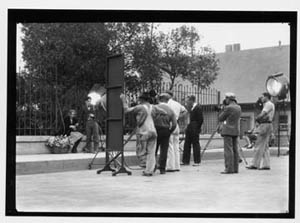 Foreword
I was watching a silent film the other day which had been shot in the streets of South London in 1922. Those same streets would be flattened 18 years later in the Blitz. Yet there was something remarkably familiar about them. Of course! They were the same streets Chaplin had re-created in his films. Instead of London, Chaplin made his pictures in sunny and somnolent Hollywood, less like South London than almost any town you can imagine. Even so, his set designer supplied the treeless terraces, the brick walls, the bollards, and the arched alleyways that could only be South London or the East End.
Chaplin retained British citizenship all his life, to the irritation of nationalistic Americans, and remained a Londoner, too, although why he should have fond memories after the wretched experiences he and his brother were put through, I cannot imagine. Whenever he came to London, he went on nostalgic walks. (You can see home movies shot in Lambeth by Oona Chaplin on the Warner Bros. DVD of Limelight.)
Earlier this year, I was taken on a tour of South London by Chaplin expert Tony Merrick and I was astonished at how much still survives from Chaplin's era. One of the most touching moments I experienced was when I was shown the railings of Kennington Park, reproduced on the backlot in City Lights, where the blind girl sells Charlie the flower. You ignore it until it's pointed out to you and then there is no doubt, despite the busy traffic and the nearby underground station.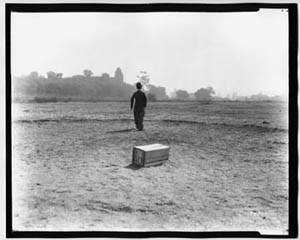 The most astonishing discovery came when Tony Merrick took us into a working man's club, sandwiched between Georgian terraces. He had a word with the man behind the bar and took us up some steps, through the kind of cobwebbed corridor you see in Universal horror films, and into a small Edwardian theatre, gaslights intact. It was due to be demolished—you could smell the mildew—but it was a wonderful surprise. A theatre, we were told, where the young Charlie and his brother Syd had almost certainly performed.
Chaplin often chose his locations because they reminded him of London. The forbidding institution from which Edna Purviance emerges with her baby in The Kid always suggested to me the workhouse where the Chaplins were incarcerated. It is just the sort of place you'd imagine Los Angeles tearing down and it is thrilling to discover, thanks to John Bengtson, that it still exists, even though at only half its original height.
Chinatown hardly suggests London, and yet, as we now have a Chinatown in Soho, so too did we once have a Chinatown in Limehouse, on the river. You can see it reproduced in Broken Blossoms (1919), for which D.W.Griffith combined studio sets with parts of the Los Angeles Chinatown—the same parts Chaplin uses in The Kid and in Caught in a Cabaret. That whole area has been scoured clean off the map and the district around the railroad station has lost all its atmosphere.
Los Angeles must be the fastest changing city in the world. When I first visited it in 1964, film people were bemoaning the loss of the D. W. Griffith studio—it had become, somewhat unromantically, a supermarket—and the fact that the Keystone studios had been virtually eliminated. I was taken on a tour of Sennett locations by one of Chaplin's first leading ladies, Minta Durfee, who had married Roscoe Arbuckle. She found very little left. Forty years later, had it not been for John Bengtson's heroic researches, virtually all traces of the silent era would likely have been erased.
But look what he's discovered!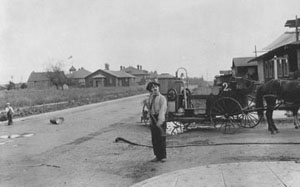 While spectacular architectural follies, like the Hollywood Hotel or the Bradbury Mansion, have long since gone, he shows us that the firehouse where Charlie—nearly a century ago—shotThe Fireman is still standing, as a Korean bridal shop.
What a debt we owe him! Bengtson's sense of observation is so acute that he can recognize a wall which has undergone enough changes to make it unrecognizable to the rest of us. Sadly, developers do not share the same sense of history as he does. I was filming on the backlot of a Hollywood studio recently, and wanted to use glass stages from the silent era as a background. "Don't show those," said the studio manager. "People might stop us tearing them down."
Kevin Brownlow
London, England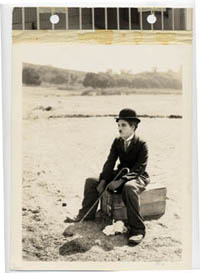 Introduction
During the opening days of 1914, a young English music hall entertainer named Charles Spencer Chaplin stepped in front of a motion picture camera for the first time. He did so in a special place, in the heart of Downtown Los Angeles. Chaplin's earliest scenes were filmed amid the bustling trolley cars and horse drawn wagons at First and Broadway, by the corner of the Los Angeles Times Building (newly rebuilt from a terrorist bombing), and in the shadow of Court Hill nearby. Postcards at the time proudly hailed Broadway as "the best lighted street in the world," lined with stately civic buildings such as the Romanesque city hall and the towering sandstone L.A. County Courthouse, both built in the late 1880s.
From these heady early days, Chaplin and Los Angeles would both undergo tremendous change. In a few short months, the modestly successful actor would become the most famous entertainer on Earth, the world's first modern age superstar. At the same time, newly constructed aqueducts began drenching Los Angeles with imported water, spurring Los Angeles to bypass San Francisco as California's most populous region. The subsequent automobile boom and resulting explosive suburban growth would forever define L.A.'s contours in asphalt and concrete.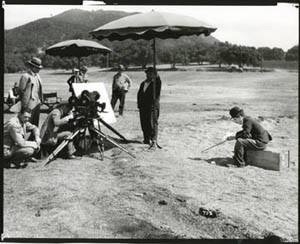 Chaplin played the Little Tramp, the underdog outsider forever looking in. Themes of alienation and adversity resonate throughout his films. In a 1922 Vanity Fair article publicizing The Kid, Chaplin describes the tale as taking place on London's weary East End streets, where Charlie had spent his youth in hardship and deprivation. Although not located in London, the real streets seen in the film had witnessed sufficient heartache to qualify as a dramatic setting in its own right. Chaplin filmed many scenes near the old Plaza de Los Angeles, where Hispanic descendants from California's former ruling class would find themselves ostracized in their own land, and in the old Chinatown nearby, where restrictive laws and immigration policies conspired to keep the descendants of Chinese railroad laborers on the lowest rung of the social and economic ladder. Perhaps intuitively, perhaps by design, Chaplin's themes of alienation echo from the very bricks and stones of the settings where he chose to shoot his films.
We would never be able to appreciate this subtle interplay of history and drama without first knowing where Chaplin shot his films.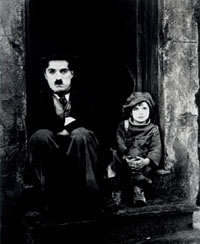 So much has changed since 1914. The dusty roads and rural settings from Chaplin's earliest shorts soongave way to the factories and paved highways appearing in films such as Modern Times. Hollywood's agricultural economy succumbed irresistibly to urban encroachment, hastened in part by the construction of Chaplin's own studio upon a former lemon grove. And on Broadway today, not only have the trolleys and many romantic buildings long since disappeared, but Court Hill itself has completely vanished. Once a hilltop island of Victorian mansions, sitting high above downtown, Court Hill and its charms have been completely obliterated—graded flat and hauled away one truckload at a time. Remarkably, however, the site where Chaplin filmed on Court Hill beside the former Bradbury mansion remains untouched and sits several stories up in the air!
Because Chaplin shot so often on location, his films not only move us to both laughter and tears, they also capture a real time and place, recording history itself. While each scene provides a rare glimpse of the past, together they reveal, like the tiles of a mosaic, a clear picture of the real world in which Chaplin and the other silent-era comedians once filmed. With a little detective work, and a little imagination, we can use Chaplin's films as a portal to the past. We can explore the early Hollywood where Chaplin once worked, and the silent traces that remain today.
John Bengtson
Walnut Creek, California
https://www.santamonicapress.com/wp-content/uploads/2015/10/silenttraces.jpg
185
240
Santa Monica Press
https://www.santamonicapress.com/wp-content/uploads/2021/03/smp_logo_slogan_h106.png
Santa Monica Press
2014-04-11 00:00:00
2019-05-09 03:41:56
Silent Traces : Discovering Early Hollywood Through the Films of Charlie Chaplin