The Ruby Slippers, Madonna's Bra, and Einstein's Brain : The Locations of America's Pop Culture Artifacts
The Ruby Slippers, Madonna's Bra, and Einstein's Brain : The Locations of America's Pop Culture Artifacts
March 2006
304
$16.95
Hundreds of Black-and-White Photos
6 x 9
softcover
Anyone who has ever wondered where Dorothy's ruby slippers, George Washington's teeth, or the world's largest olive are located will be thrilled to take this journey to find hundreds of the most important items from America's popular culture. Found in such major institutions as the Smithsonian and the Basketball Hall of Fame as well as in such offbeat collections as the Sing Sing Prison Museum and the Delta Blues Museum, these pop culture treasures include the most famous-and quirkiest-items from movies, crime, TV, sports, music, history, and America's roadside attractions.
The Ruby Slippers, Madonna's Bra, and Einstein's Brain is divided into the following chapters: American Curiosities, Roadside Relics, Historic Artifacts, Criminal Remains, Celebrity Antiquities, Movie and Television Keepsakes, Music Mementos, and Sports Memorabilia. There's even a list of the Top Ten Missing in Action Pop Culture Artifacts.
Some of the most fascinating treasures found in the book include:
The Cardiff Giant • Thomas Edison's Last Breath • World's Largest Ball of Twine • George Washington's Teeth • Lizzie Borden's Axe • John Wilkes Booth's Thorax • Watergate File Cabinet • Abraham Zapruder's Camera • Tom Thumb's Wedding Cake • Casablanca Piano • Easy Rider Motorcycle • Jimi Hendrix's Woodstock Guitar • Elvis Presley's Report Card • Paul "Bear" Bryant's Hat • Miracle on Ice Skates
Click below to purchase this book:
Read Excerpt
Contents
Introduction
Chapter One
American Curiosities
Chapter Two
Roadside Relics
Chapter Three
Historic Artifacts
Chapter Four
Criminal Remains
Chapter Five
Celebrity Antiquities
Chapter Six
Movie and Television Keepsakes
Chapter Seven
Music Mementos
Chapter Eight
Sports Memorabilia
Introduction
I have written several books that document the locations of America's pop culture landmarks. These journeys have traced a wide range of moments in American history, from music and movies to crime and celebrities, including all the weird, wonderful events that happen in between. In playing "cultural detective" while trying to locate these places, I became interested in another piece of the pop culture puzzle: Where were the actual artifacts related to the events I'd been researching? For instance, I located the spot where Marilyn Monroe posed suggestively over a subway grating in New York City during the filming of The Seven Year Itch. But where was the famous white dress she wore? I documented the sites related to the assassination of John F. Kennedy. But where was Lee Harvey Oswald's gun? Where was the guitar Jimi Hendrix played at Woodstock? The bullet that killed Lincoln?
You get the idea.
These treasures are, in some cases, the last physical link to the events themselves. Most of us can recite at least part of Longfellow's ode to Paul Revere, but to be able to actually see one of the lanterns in question brings the event home like nothing else.
Which is why I decided to write this book-to bring us even closer to history by locating our most precious cultural artifacts.
Adding to typically "historic" items, I thought that any definition of a "Pop Culture Artifact" must also include more than the usual suspects. That's why, in addition to all of the more expected historic artifacts, there are closets full of more obscure relics. You'll find classic American roadside structures (like the world's "largest" ball of twine and a giant artichoke), offbeat treasures (like the Watergate file cabinet or the Easy Rider motorcycle), and "fringe" artifacts that, while weird, say something about how we as a people "anoint" certain oddities as relevant cultural icons (like the "Nun Bun"-the famous cinnamon roll in the shape of Mother Teresa).
Of course, a book like this is going to include many museums. The Smithsonian Institution, in my opinion the greatest network of museums and collections on the planet, is featured in several chapters of this book-how could it not be? Other popular museums are here as well. But for every National Baseball Hall of Fame, you'll also find a Cockroach Hall of Fame or the wonderful Museum of Jurassic Technology. It was important to me to include not only prestigious museums, but the more obscure venues as well.
And while I certainly didn't want to minimize any of these terrific places by having only one or two items represent the whole collection, in a book of this size I had little choice. But let's face it . . . many times we are in search of one specific thing when we visit a museum. Oh, we'll tour the whole place in time, but upon entering, sometimes there are just a couple of things we have to see as soon as we walk through the entrance, right?
Several years ago, my wife and I took our son on his first visit to the Museum of Natural History in New York. He was about six at the time, and had been reading books about the museum leading up to our trip. What did he want to see most in a place which has literally millions of artifacts? Shrunken heads (which were hidden in a far less-traveled corner of the museum).
I remember when I first visited the Baseball Hall of Fame as a youngster, I had to see Babe Ruth's locker before I saw anything else. Watching my son rush to his favorite artifact got me thinking that if the Babe's locker is all I had seen that day, I probably would have been happy. So I'd like this book to first and foremost serve as a chance to isolate fascinating cultural items, and secondly to help expose you to some of the nation's most interesting museums.
In a way, it's getting trickier today to locate certain famous, or even infamous, items. For instance, there are hundreds of theme restaurants that gather and display items from movies, TV, and rock-and-roll. The auction phenomenon (fueled in large part by the success of eBay and other related companies) has also resulted in many items ending up in private collections, which usually means that you and I can't see them. On the other side of the coin, though, auctions have also driven many items out of obscurity, out from under beds, out of attics, and into the light. So maybe it all balances out.
And one can only imagine what's still out there-first editions, original paintings and manuscripts-gathering dust in someone's garage or basement. If you're interested, at the back of this book I've listed my Top 10 Missing in Action Pop Culture Artifacts-things I believe are out there that I'd love to see on display someplace. Who knows-maybe you have a tip as to the whereabouts of one or more of these items. . . .
I've squeezed as many items as I could into this book, knowing that there are many artifacts out there that would probably be worthy of inclusion. If you have any suggestions, please let me know. After all, you never know when a sequel is in the works.
Lastly, as always, I thank you for spending some time with this book. Whether you actually visit the Ruby Slippers or Madonna's Bra (Einstein's brain, for now, is under wraps), it's my hope that a book like this will both educate and entertain you, while reminding you that there are some wonderful things to be experienced out there, not just in major cities, but tucked away along back roads and in hundreds of small towns across America. In a way, our country is one big, living reliquary. I appreciate this chance to help guide you through some of it.
Enjoy the journey.
-Chris Epting
I can be reached at chris@chrisepting.com
You can check out my web site at www.chrisepting.com .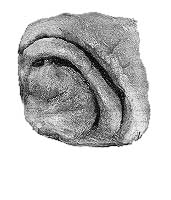 Nun Bun
Bongo Java
2007 Belmont Boulevard
Nashville, Tennessee
615-385-JAVA
Bongo Java became world famous in December 1996 for the discovery of a cinnamon bun that many believe looks like Mother Teresa. The Music City Miracle was featured in media outlets as diverse as the Washington Post, CNN, BBC, Paul Harvey, and David Letterman. The bun has been preserved and is on continuous display at Bongo Java.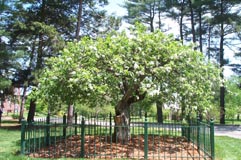 Isaac Newton's Apple Tree
Babson College
Horn Library
Babson Park, Massachusetts
781-235-1200
Here on the campus of this college you'll find a tree actually grown from a branch of Sir Isaac Newton's famous apple tree. Newton's tree, of course, became renowned in 1665 when an apple fell from it, hit Newton in the head, and thus led to his theories on gravity. Isaac Newton's study can also be found here at the school. It seems when the legendary physicist's home in London was torn down in 1913, the head of Babson College had the idea to reassemble it here in the school's Horn Library.
https://www.santamonicapress.com/wp-content/uploads/2015/10/rubyslippers.jpg
361
240
Santa Monica Press
https://www.santamonicapress.com/wp-content/uploads/2021/03/smp_logo_slogan_h106.png
Santa Monica Press
2014-05-08 00:00:00
2019-05-09 03:41:55
The Ruby Slippers, Madonna's Bra, and Einstein's Brain : The Locations of America's Pop Culture Artifacts